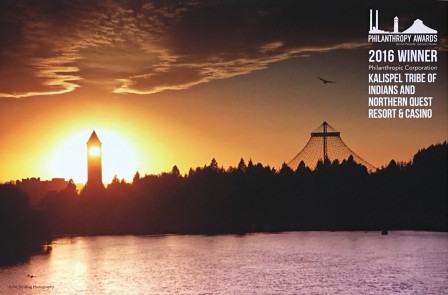 The Kalispel Tribe believes in being a strong community partner and strives to achieve that through its commitment to supporting its neighbors. The Charitable Fund was established to support the work of the numerous non-profit organizations of Spokane and Pend Oreille counties. The organizations the Tribe supports are pursuing the same goals as the Kalispel Tribe, as we all work to better the lives of our future generations. Since 2000, the Kalispel Tribe has donated over $1 million annually to our local community.
The Tribe focuses its charitable giving in the following areas:
Education
Health Care
Arts & Culture
Social Services
Environment Conservation
Submission Process
Auction or Raffle Item Only:
Application must be submitted at least 90 days prior to your event for consideration. Note: If you are requesting an auction or raffle item in addition to other funding, please include it in your annual comprehensive request (see guidelines below).
Program Support, Event Support, or Capital Campaign Funding:
There are two funding cycles each year, one in April and one in October.
Applications are due by midnight on October 1st or April 1st.
Only one comprehensive application for funding may be submitted in a 12-month period (Oct 1st-Sept 30th) per organization.
If you are requesting funding for an event that will occur in October or April, it is highly suggested you apply for the funding cycle prior to the month your event is being held (e.g., If your event is October 15th, apply in the April funding cycle to ensure review of your application prior to the date of your event.).
General Guidelines
IMPORTANT: Submission form is not compatible with Google Chrome.  Please use an alternative web browser to submit.
Requests must be submitted using our online application form below with no exceptions.
Requests must be from a non-profit organization registered with the State of Washington.
Proof of being a non-profit organization registered with the State of Washington (UBI number) must be attached to the application.
Requests from a third party are not accepted.
Funding for teams and individuals is excluded.
If additional space is needed on your application, please attach that information under "additional attachments" at the bottom of the application.