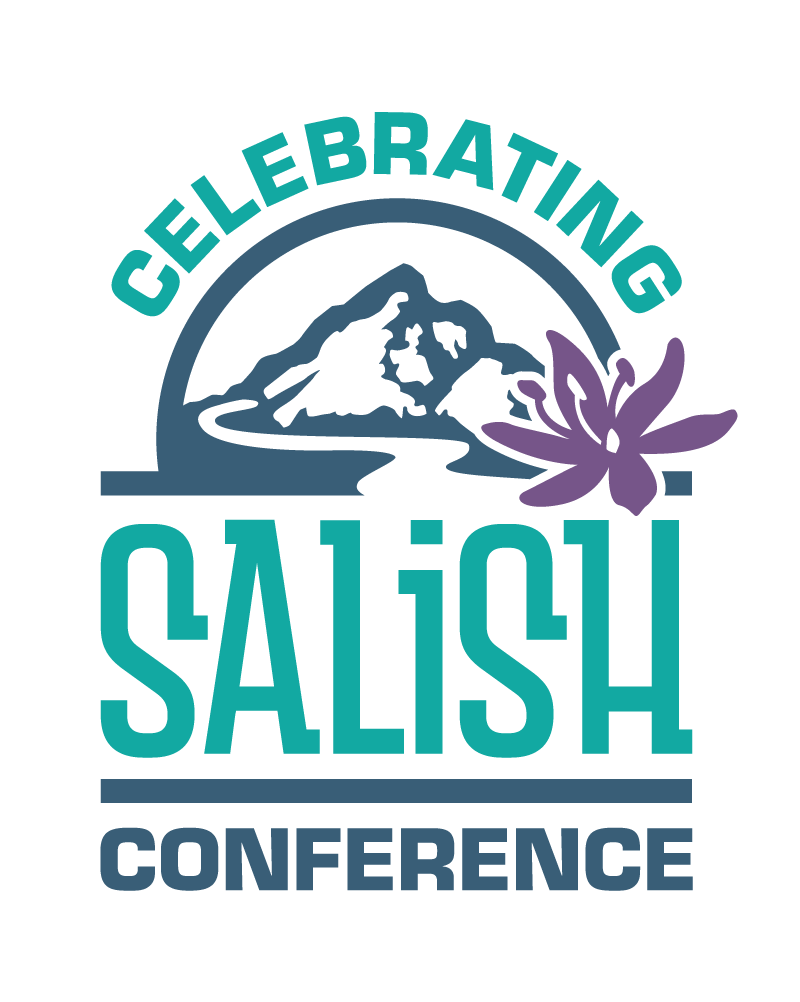 We host the annual Celebrating Salish Conference, which brings together speakers and learners of all Interior Salish languages in the Inland Northwest:  Kalispel, Spokane, Colville-Okanagan, Coeur d'Alene, Wenatchee-Columbian, and Montana Salish.  Our goals for this conference are to promote new speakers of our native language, collaborate with our neighboring tribal communities, and build ongoing relationships with one another.  The Celebrating Salish Conference is the largest language gathering of native speakers in the entire northwest.  
We had another successful conference. We had about 400 registered guest and over 500+ visitors for the Salish Karaoke and Salish Talent shows. We thank all of the people who came to be a part of this years conference.
Next years conference is scheduled for March 7-9, 2018 at the Northern Quest Resort and Casino located in Airway Heights, WA. The Pre-Conference Training is tentatively scheduled for March 6, 2018. 
2018 Conference Materials
All of the 2018 Celebrating Salish Conference information is here. Please check out all of the information listed below. Lets get registered and get ready for another awesome conference.

See you guys there! JR

2018 Pre-Conference Training: Where are your Keys: Immersion techniques for teachers AND learners.
Where Are Your Keys (WAYK) is a collection of practical techniques for immersion designed to support communities of skilled language teachers and learners. With the help of many participants and partners over the years, the WAYK team has been able to distill memorable strategies for creating safe, inclusive, and collaborative learning environments. WAYK was originally designed for sessions with fluent speakers (i.e., Mentor-Apprentice) and community language gatherings, but can be used in a classroom setting as well.  

Join us for an introductory WAYK session that will include hands-on lessons (in a demonstration language), examples of curriculum, and fun techniques for teaching and learning. Whether your goal is fluency development, teacher training, curriculum creation, or documentation, participants will walk away with valuable tools that can be used independently or can complement and enhance existing methods.

The registration for this pre-conference training is $50. This is separate from the Celebrating Salish Conference registration. The registration is listed above in the conference materials section of this webpage.
Youth Track Leadership Workshop
The Native Youth Leadership Workshop is a program for Native youth ages 12-17.  The Workshop is an opportunity for youth to understand the importance of language revitalization through leadership development.  Youth will be inspired and motivated by youth keynote speakers from our Native communities.  Youth will connect with positive healthy youth and adults who will encourage and support them through their personal development.  Workshops will include a variety of activities including:  ice breakers, team building, Salish Language activities, and cultural exchange.
 Nk̓ʷucin UNITY Youth Council members will assist and conduct workshop activities and presentations.  UNITY is a national network organization promoting personal development, citizenship, and leadership among Native American youth.  UNITY's mission is to foster the spiritual, mental, physical, and social development of American Indian and Alaska Native youth and to help build a strong, unified, and self-reliant Native America through greater youth involvement.  The Nk̓ʷucin UNITY Youth Council was created in the Spring of 2016 on the Flathead Indian Reservation in Montana. Council members are actively involved in Salish Language revitalization efforts, cultural education, wellness, community service and leadership throughout their communities.
The Youth Track Organizers would like to request that you provide Chaperones for any youth that may be too young or may need any special assistance. Any questions please contact Rosie or Echo.
     Rosie Matt          thesalishinstitute@gmail.com     406-273-1537
     Echo Brown        brown_echo@yahoo.com          406-212-2886
Adult-Youth Karaoke Contest
Salish Karaoke Contest Guidelines and Rules:
Contestants choose their own song and background music and provide a digital file of the background music to the contest organizers; there is no restriction on which song you choose to sing as long as you provide your own background music.
Submit your karaoke contest entry form and fee by 2/23/18 for Early Registration and by 4:00 pm on 3/7/18 for Regular Registration.
Email your background music file (mp3 preferred) to: info@salishschoolofspokane.org. For on-site Regular Registration, contestants will be responsible for providing their digital music file on a jump drive or CD by 4:00pm on 3/7/18.
Prepare and practice your Salish or Kootenai lyrics using the music that you have chosen.
Prepare your outfit and dance moves.
Perform your song at the 2018 Celebrating Salish Conference on Wednesday, March 7, 2018.
Rules and Guidelines:
Winners will be selected based on the sole discretion of the judges chosen by Salish School of Spokane (SSOS).
No refunds will be issued for any reason once an entry form and fee has been received by SSOS.
All lyrics to be performed MUST BE IN A SALISH LANGUAGE or in KOOTENAI. The use of English or other non-Salish/Kootenai language while singing may automatically disqualify the contestant(s).
The inclusion of costumes, outfits, dance moves, and Elvis sideburns are strongly encouraged.
By signing the entry form, all contestants agree to hold Salish School of Spokane, the Kalispel Tribe, and all other contest sponsors harmless from all liabilities and damages arising from the Salish Karaoke Contest.
All contestants must check in with contest organizers by 4:00 pm on Wednesday, March 7, and confirm the validity of their digital music file, or their contest entry may be revoked.
For more Information please contact Chris Parkin at chris@salishschoolofspokane.org or 509-325-2018 (school) or 509-981-7276 (cell). The Adult and Youth Salish Karaoke Forms are included above in the conference material section.
2nd Annual Salish Talent Show
All participants are encouraged to bring an original song, performance, act, talent, or whatever they sing in the shower to perform in the 2nd Annual Salish Talent Show to be held at this year's Celebrating Salish Conference.  
There will be signups at the conference and everyone is required to register before 5pm on Thursday March 8.  Participants will be asked to limit their performance to 5 minutes so we can make sure we all get a chance to shine!  Drum Songs with Salish/Kootenai lyrics, classroom songs, comedy routines, and staged performances, are just some of the things that would work. All we ask is that all performances must be in Salish/Kootenai (no English please).

This is not a competition, but a time to showcase our language and to show everyone that our language is alive and well.  Youth, adults, and Elders are all encouraged to come and showcase the successful revitalization efforts happening in your area.  We expect to see all generations and all Tribes represented. Good luck and let's get those ideas a-rolling!

For more information on the Talent Show please contact: JR Bluff @ 509-447-7294 or jrbluff@kalispeltribe.com
Honoring Our Language Heroes
The sponsors of the 2018 Celebrating Salish Conference are accepting nominations from community members who would like to recognize the Elders and Teachers in their communities who have worked to ensure the survival of our Salish languages. Only through the dedication of our Elders and Teachers have our languages survived to the present day. We need to recognize and thank all those, past and present, who have worked to sustain our Salish languages so that they can be passed on to our future generations.
On Thursday, March 8, 2018 at the 2018 Celebrating Salish Conference, we will recognize the nominated "Language Heroes" and ask them and their nominator to join a Procession of Heroes. If your hero has already passed away, we will ask you to submit a photo that can be printed and carried in the Procession of Heroes.
In order to nominate your "Language Hero", please fill out the "Honoring Our Heroes" Language Award nomination form and mail or email it before February 16, 2018. Nominators may submit only one form and nominate only one Hero. Language Heroes who were honored the previous years are not eligible for nomination in 2018. If you do not plan to register for the Celebrating Salish Conference, you may still nominate a hero and plan on attending just the Procession of Heroes at 6:15pm on March 8, 2018 at the Northern Quest Resort and Casino in the Pend Oreille Pavilion. The nomination form is included above in the conference material section.

If you would like to nominate a "Language Hero" in your community please contact Shelly Boyd at shellyboyd@comcast.net or call 509-722-3907 or 509-879-0241.