History of the Kalispel Flag
History of the Kalispel Flag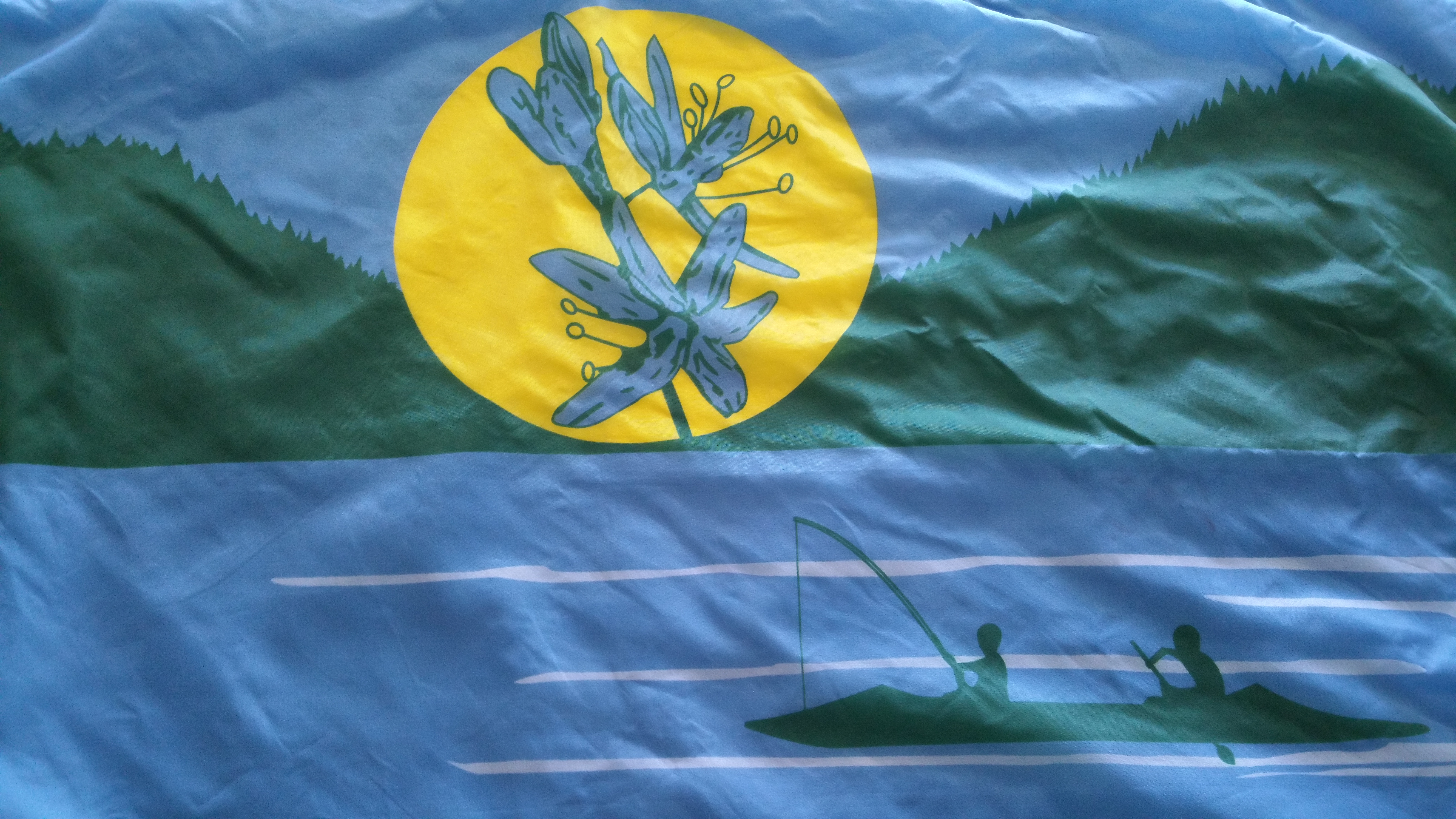 Flags have been around for thousands of years.   Some of the earliest flags ever found were made of bronze and other metals.  Flags are flown to mean many different things: some flags mean conquering, some mean surrender, some warn to stay away, and others still are flown just because they look pleasant flapping in the wind.  The Kalispel Flag was designed in the mid 1990s and according to the person who designed the flag, "incorporates the essence of the Kalispel Tribe."

Showcasing the Pend Oreille River and the tree-covered mountains to the west, the Kalispel Flag represents one of the most historic cultures living along the Pend Oreille River.  The sturgeon-nosed canoe, at one-time a prized possession of every Kalispel family, floats the river while carrying two fishermen.  The sturgeon-nosed canoe is a unique part of Kalispel culture since only two other tribes in the world use this specific type of canoe.  The focal point of the flag, set upon a backdrop of a setting sun, is the camas flower.  The root of the plant provided the staple of the Kalispels' diet and the camas digging camps were a time for family and friends to be together.
Pam Galloway is the person responsible for designing and producing the Kalispel Flag.  It was in the mid 1990s when the Tribe decided it wanted a flag and Pam's name was mentioned as someone who could do the job.  Pam's husband worked on the reservation as a transportation planner and it was known to his co-workers that his wife was a graphic designer.  Armed with historical photos, courtesy of Dave Bonga, and first-hand knowledge from the time she had spent on the Reservation, Pam went to work designing a flag that would represent an entire group of people.  She said that at first it was a daunting task and one that she definitely did not take lightly.  "Designing a flag for an entire group of people was a little overwhelming," she said.  "But once I got started I found I knew the direction I wanted to go.  I'm happy with how it turned out."
Pam studied graphic design at Spokane Falls in the late 1970s, completing a three year program.  Nearly half a century ago graphic design was entirely different from what it has become today.  Easily forgotten to many of us, personal computers didn't become common in homes until the 1980s.  Before computers, graphic design was done with exacto blades, rubber cement, Bestine—a chemical solvent that is hazardous to breathe in an unventilated area (like an art studio), a steady hand and a good eye.   "This was not a digital project," Pam said.  "Back when I was learning graphic design we were assembling overlays by hand.  I used silk screen for the Kalispel flag."
The flag is not the only project Pam has done for the Tribe.  She also helped redesign and put together a 1996 reprint of the booklet, The Kalispels – People of the Pend Oreille.  A black and white picture of the flag is on the cover of the booklet.