Meet Dave Bonga, Senior Tribal Attorney
Meet Dave Bonga, Senior Tribal Attorney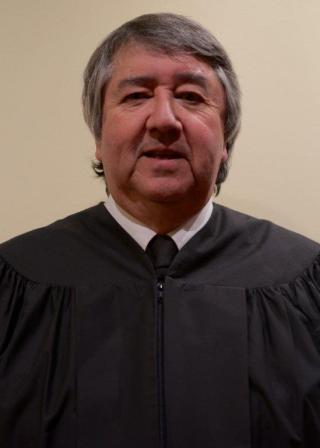 Dave Bonga:  Senior Tribal Attorney
You've been with the Tribe for many years, when did you first start?  In 1980, I was employed by an organization that was doing projects with the Tribe and that was my introduction to the Kalispel.  In 1983, I became a Youth Judge for the Tribe and did that for two years.  Then it was in September of 1985 that I became a full time employee.
What made you interested in studying law?  I was born and raised in Monroe, Washington—my parents were Chippewa—and when I was in high school I remember reading a book called, "When the Legends Die."  In the story the main character is caught between his native culture and modern white society—it's about him trying to find his place in the world.  That book made me realize I wanted to try and help native people and right some of the wrongs that have happened.
If not a lawyer, I'd be a…?  Teacher.  Back when I was growing up in Monroe, I thought that I was either going to be a lawyer or a teacher.  And I have been able to be a guest teacher and lecturer at some of the local institutions, like EWU and WSU.
Can you tell us about your family?  I got married in 1983.  While I was in law school at Gonzaga I used to hang out at a Chapter Eleven restaurant and that's when a friend of mine introduced me to the woman I would later marry.  We have one son, three daughters, eight grandkids, and two great-grandkids.
You recently toyed with the idea of retiring, has that thought returned?  I'm planning on retiring in June of 2018 when I'm at full retirement age.
What are you going to do with all that free time on your hands?  I'm looking forward to attending Mariners baseball games, traveling some, and maybe even working on a book.  I'd like to go through the Allan Smith (late WSU Professor of Anthropology) field notes, the late Bob Dellwo's legal files and, working with Annette Pierre, write a book about the Kalispel.
What are some of your hobbies?  Well, I used to be a runner, but I got into a serious car wreck in the 80s and since that time I haven't been able to do much running.  I'm looking forward to doing lots of walking when I retire.
What are some of your favorite memories from your time here?  I have many…but my top memory would have to be when the Camas Institute began in 2001.  When I was going to law school I knew I wanted to work for a small tribe and I got to fulfill that dream here.  Working with Glen, it's really been remarkable what we've been able to accomplish.