FREE TO RIDE AND OPEN TO THE PUBLIC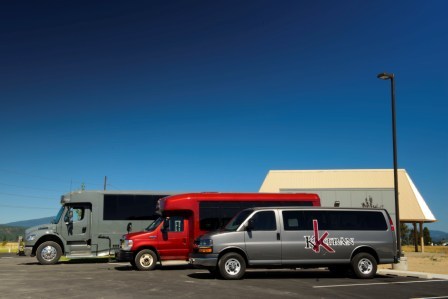 Kaltran is a public transportation service operated by the Kalispel Tribal Planning and Public Works Department under the Kalispel Tribal Business Council. Everyone is welcome to ride! Our fleet consists of one 38-passenger bus, two 22-passenger buses, two 15-passenger vans, and a seven-passenger van. All vehicles are ADA compliant with lifts/ramps for wheelchairs. Kaltran receives funding through grants from the Federal Transit Administration, the Washington State Department of Transportation, and generous contributions from local agencies and organizations. Kaltran enhances the economic and social well being of the Kalispel Tribal people and surrounding community through the delivery of safe, reliable, efficient and friendly transportation services.
Locations
Kaltran provides fixed route service from the Camas Center to North Spokane every day. Round trip service is also provided to Ione on Monday and Wednesdays. Deviated services are also available up to 3/4 of a mile off the normal fixed route, or within the boundaries of the Kalispel Indian Reservation. All deviated route services must be scheduled with the Kaltran office prior to the requested pick-up time, so vehicles can be appropriately dispatched.
Days & Times
Kaltran operates four days a week, Monday through Thursday.
Schedule
For full schedule please see KALTRAN Bus Schedule
Cost
Kaltran is free to ride and is open to the public.